Who Are We?
We are Bible believing Seventh-day Adventists.  We are inspired by the Bible and Spirit of Prophecy. We are teachers and administrators, mothers and fathers, students and former students from all over the World – U.S., Canada, and abroad. We all have one common belief – Jesus is coming soon!  We are called to Spread the gospel of Jesus Christ by implementing the principles of true education as outlined in the Bible and Spirit of Prophecy to prepare students to stand true today and for a life of eternity by a joint initiative to academic excellence with an emphasis on spiritual values and a higher sense of mission.
Remnant Preparatory School is an incredible Self-Supported Seventh-day Adventist school that God has raised up for these last days! 
About Remnant Preparatory School
Rem

nant Preparatory School (RemnantPrep), founded in 2015, provides a high-quality, personalized education experience to students in the United States and abroad (International) in grades K-12 in a live-virtual classroom – direct student/teacher interaction where ever you are.  Located in the United States, RemnantPrep is owned and operated by a Self-Supported Seventh-day Adventists Educational Ministry.
Remnant Prep. provides an exciting opportunity for students living in the United States and internationally to learn directly from a live teacher; the classroom is in the home, local church, homeschool community group, or on the road, wherever an internet connection is available.
Teaching through live-video conferencing: students are safe at home, gathered in their local church, or homeschool community group while experiencing the same classroom instruction and interactions as traditional students.
Students follow a Bible-based/ academic excellent curriculum and complete assignments relevant to their spiritual and academic growth.
Actively participate in classroom discussions.
Interact and develop real relationships with faculty and peers.
In addition to the virtual learning environment, Remnant Prep. offers the traditional homeschool plan.  This option provides the service of a facilitator who closely monitors the student's academic performance through evaluations conducted twice a year.  This is a great option that enables parents to comply with home-education government guidelines and preside over their child's education.
REQUIRED TECHNOLOGY TO ATTEND SCHOOL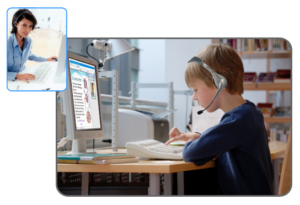 a computer or laptop with a webcam,
headset with mic,
printer, scanner, and
access to an Internet connection (high-speed connection if possible).
These components will enable you to enjoy many learning opportunities and to communicate with your teacher and classmates. Students in Grades 8-12 also receive their own email address for school use.
Our virtual classes use Blackboard Collaborate, BigblueButton, Google Classroom, and other platforms as parts of our Learning Management System. These tools are very easy to use and a training session is available upon enrollment.
Remnant Prep. offers an internationally approved curriculum designed for the Spiritual and academic growth of all students.  Because of this, we are not mandated to participate in the local state Department of Education timeline for standardized tests, and we are NOT a part of the government standardized testing.
Schedule your FREE Classroom TOUR today!
If you have any questions, please contact us via telephone, email, our social media platforms (facebook and twitter) or facsimile.
Contact information:
Phone: 1-800-811-3043; 847-241-8345
Fax:  1-800-811-8067; 847-478-3049

Office hours:
Monday – Thursday: 8:00am – 4:00pm (Eastern Standard Time).
Friday: 8am – 12:00pm (Eastern Standard Time).
General inquiry: info@www.remnantprep.net
Admissions:  admissions@www.remnantprep.net
Administrator: admin@www.remnantprep.net
Mailing Address:
Remnant Preparatory School
P.O. Box 1608480
Altamonte Springs, FL  32716-0848