Let's be honest! As parents we have all good intentions in choosing to homeschool our children. In fact, we were rather excited to make the transition to being able to fully provide the Christian Education that we know out children deserve! And then… reality set in. The questions began rolling through our minds, What curriculum do I choose? What schedule should I put them on? Are they learning as they should? Are they progressing as well as their counterparts? Are they getting adequate social skill? Am I teaching this topic well? Did I make the right decision?
These sentiments are what unfolded the birth of, Remnant Preparatory School! Our school offers an affordable interactive, real-time virtual school in a Christian environment! Don't need the entire program? No worries, we offer a-la-carte courses that allows you to choose the topic that either your child is struggling to learn or that you are struggling to teach.
I have been homeschooling our three children for 3 years now and I'd come to road block in mathematics for my third grader. I first began looking at tutors and that was rather expensive and I didn't feel that the time allotted was enough for her needs. Then there was the issue of travel time and trying to have our schedules and the tutor's schedules in sync. Stressful! My husband and I thought and prayed about it, then we remembered, Remnant Prep. We called them and was offered the free tour, we gladly accepted! The next day, the girls sat through one of the classes and when asked how they liked it, they said that where they wanted to do homeschooling! We decided to allow them to attend full-time! Best decision we ever made!

S.T. – Atlanta, Georgia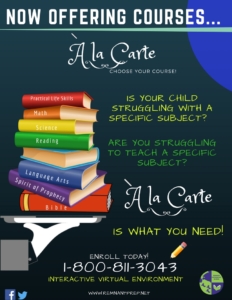 Schedule your FREE TOUR today!